NETCOM Technologies, Inc., designs, builds, and maintains Telecommunications Infrastructure, Physical Security, IoT, as well as Audio and Video Systems for Commercial and Government end users. We leverage the latest technologies and solutions to integrate all systems on one IP based platform to allow our customers to achieve their operational and cost savings goals across their organization. Netcom's industry certified designers, engineers, project managers and installation professionals provide our customers with unparalleled service and solutions throughout the life cycle of a project or initiative.
Who We Are
At Netcom Technologies, customer service is the cornerstone of our foundation. For over 33 years, Netcom has created an environment of relationship building through trust and superior service. We partner with our customers to ensure reliability and responsiveness every time. We believe excellent service starts with understanding what the customer needs, providing resources to meet those needs and using a reliable method to deliver consistent, quality results.
Learn more
Latest
Headlines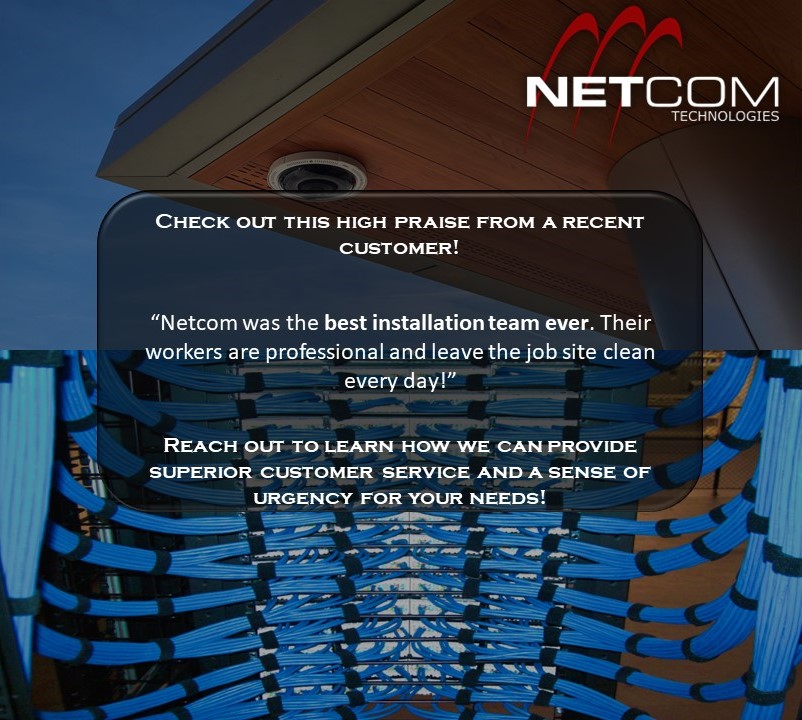 High Praise For Netcom
February 2, 2023
Clarksburg, MD., February 2, 2023 — NETCOM Technologies, Inc. (NETCOM) is happy to share this incredible compliment from a recent and ongoing customer. NETCOM has developed a strong relationship with Allied Universal Technology Services and have partnered together on multiple security projects in the past year. Typically tasked with cable installation, termination, rough-in, and device […]
Read more
If you're interested in working with Netcom Technologies on your next project, please contact us via our contact form.