High Praise For Netcom
Posted on February 2, 2023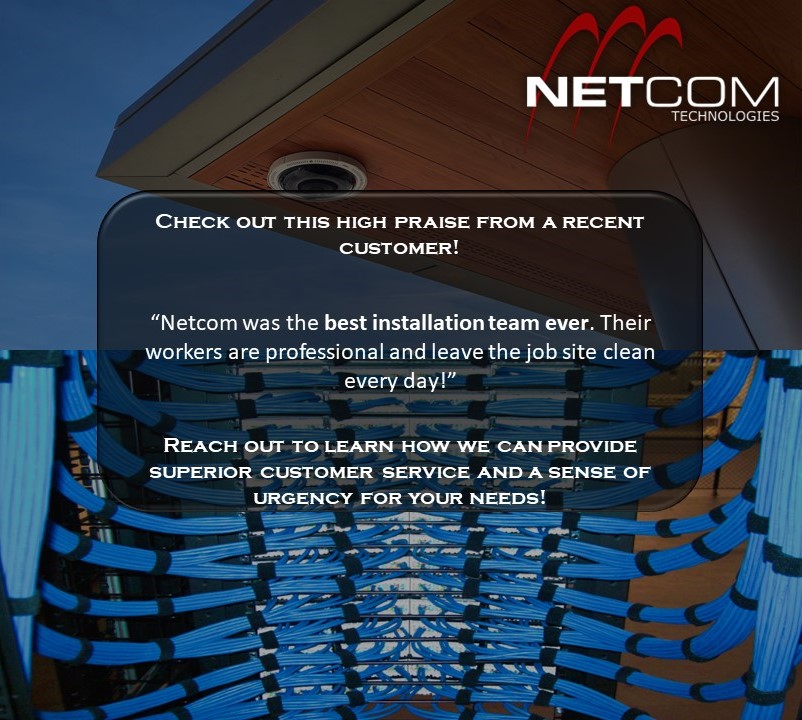 Clarksburg, MD., February 2, 2023 — NETCOM Technologies, Inc. (NETCOM) is happy to share this incredible compliment from a recent and ongoing customer.
NETCOM has developed a strong relationship with Allied Universal Technology Services and have partnered together on multiple security projects in the past year. Typically tasked with cable installation, termination, rough-in, and device mounting for both Access Control and Video Surveillance; NETCOM executed a Video Surveillance project where we were responsible for the installation of fiber backbone and horizontal network cabling in a large manufacturing facility for a customer of AUTS. The job also included the installation of network switches and mounting dozens of IP Cameras. Oftentimes NETCOM's Technicians and supervisors received affirmation from both the Allied team and the end user on their skill and responsiveness on site, and our Project Managers repeatedly received praise for their expertise.
As evidence of this, during a recent meeting to discuss an additional Phase II of the project, a representative from the end user stated that "Netcom was the best installation team ever. Their workers are professional and leave the job site clean every day." This was some high praise from a person who has undoubtedly seen lots of crews come through their site!
NETCOM is excited to venture into a second phase of work on site, continue developing a relationship with AUTS, and serve the needs of all our customers.
ABOUT NETCOM
NETCOM Technologies, Inc., designs, builds, and maintains Telecommunications Infrastructure, Physical
Security, IoT, as well as Audio and Video Systems for Commercial and Government end users. We leverage the latest technologies and solutions to integrate all systems on one IP based platform to allow our customers to achieve their operational and cost savings goals across their organization. Netcom's industry certified designers, engineers, project managers and installation professionals provide our customers with unparalleled service and solutions throughout the life cycle of a project or initiative.
Please reach out to our industry leading sales team to discuss how NETCOM Technologies can provide you with the best solutions to meet your Electronic Security System needs.